News and Announcements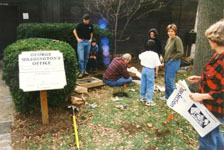 This page has announcements about where excavation, training, certification, and other archaeological opportunities may be found. News items are also included.
Check here often for the latest info we've received. If we haven't got it here, and you have info of interest, please send it to us.
---
ASV Maritime Heritage Chapter
One of the outcomes of the ASV Annual Meeting was the formation of the ASV Maritime Heritage Chapter, chaired by John Broadwater, former VA State Underwater Archaeologist, NOAA Archaeologist and Monitor Shipwreck Archaeologist.This is ASV's first thematic chapter as opposed to our traditional geo-located chapter system. The inaugural meeting of the chapter will be held on February 11, 2017 at the Virginia Department of Historic Resources, 2801 Kensington Avenue, Richmond.

Membership in the Maritime Heritage Chapter is free, but all applicants must be members of the ASV. Membership information can be found at: http://www.archeologyva.org/Org/OrgMembers.html The chapter is preparing a Facebook page and website. In the meantime, for more information, contact John Broadwater
---
2016 ASV Annual Meeting
The 2016 ASV Annual Meeting was held from October 13-16 in Williamsburg, VA, hosted by the Middle Peninsula Chapter of ASV..
---
Bill Bjork Is The New Kittiewan Committee Chair.
With the resignation of Bruce Baker as Chair of the Kittiewan Committee, the ASV Kittiewan Committee has appointed Bill Bjork (804) 754-0162 to that position.

---
Bruce Baker Resigns as Kittiewan Committee Chair
Bruce Baker, our long-standing and long-suffering;) Chair of the Kittiewan Committee has announced his resignation. Bruce has overseen the transition of Kittiewan into a smoothly running organization and has handled all of the many day to day problems as well as the small to large catastrophes that come with the territory with his usual good grace and with his good humor intact. Kathleen Baker waded through stacks of Cropper memorabilia that, had they been one tall stack, could not have been contained in any normal height room. ASV wishes both well in the future and for Bruce: Fair Winds And Following Seas.

---
2015 ASV Annual Meeting
The 2015 ASV Annual Meeting was held from October 16-18 in Manassas, VA, hosted by the Northern VA Chapter of ASV. Dennis Stanford of the Smithsonian was the Banquet Speaker, relating the ongoing work positing early settlement of eastern North America via an ice route from Europe, buttressed with archaeological evidence.

The meeting was quite successful with a wide variety of papers presented and a high quality to those papers. Over 100 people attended the banquet, which is the usual benchmark of the health of the meeting and by these numbers, ASV is very healthy.
Elections were held at the Annual Business Meeting and awards were given at the Annual Meeting Banquet. Following is a list of those elected and those to whom awards were given:
New Board Members:
one year term: Anna Hayden
three year term: Bill Bjork and Isabel Tonkavitch
Certification Grads:
Elizabeth Bucklen (Middle Peninsula Chapter)
Joe Corley (Col. Howard MacCord Chapter)
Wayne Edwards (Nansemond Chapter)
Richard Hebron (Massanutten Chapter)
Philip Mulford (Northern Virginia Chapter)
Anatoly Policastro (Northern Virginia Chapter)
Merry Beth Policastro (Northern Virginia Chapter)
Professional of the Year: Elizabeth Moore
Avocational of the Year: Bert Wendell
Martha and Julian Williams Best Historic Archaeology Paper (Student): Megan Veness
---
2015 Archaeology Week
The 2015 Archaeology week planning is upon us.

Dee Deroche writes: Dear Friends of Virginia Archaeology: Virginia Archaeology Month 2015 is fast approaching. This October we will be marking the 75th anniversary of the founding of the Archeological Society of Virginia. The past and future of this venerable and dynamic organization are presented on a colorful poster with vintage and current photos that illustrate members' activities.

I invite you to celebrate this milestone with the ASV by hosting an event, an exhibit, tour, presentation or other activity that focuses on some aspect of archaeology in Virginia. If you have questions or concerns, (about finding a speaker, or the appropriateness of an event, etc.) check with State Archaeologist Mike Barber and (540) 387-5398).

Attached is a form for submitting details of your events to DHR. Please complete an event form for each activity you plan and return them to Randy Jones , DHR's Public Information Officer, (by mail or email) as soon as possible so that they can be publicized online in the Calendar of Events on DHR's website, which Randy manages. Randy's contact # is: (540) 578-3031) (no FAX available).

To receive posters to advertise your event, send a request to Katherine Ridgway, DHR Conservator, giving a mailing address to use and the number of posters you'd like to receive.

Thank you for your support of Virginia Archaeology Month 2015, which is sponsored by Virginia's Department of Historic Resources with support from the Archeological Society of Virginia and the Council of Virginia Archaeologists.
Click here for the 2015 Event Form.

---
ASV 75th Anniversary
2015 is the 75th Anniversary of the founding of ASV. Events are planned and in the planning stages. To that end, Jessica Clark has been appointed to head the effort and through which all contacts and efforts will be coordinated. She can be reached at ASV Marketing.

---
2015 Field Survey At Kittiewan
Shovel testing of a 40-acre parcel will begin on Saturday, March 21, 2015, and continue each Saturday through the spring. To obtain a participant registration form, please contact Martha Williams.

---
New ASV Chapter - Eastern Shore
At the January ASV Board Meeting, the establishment of a new chapter on the Eastern Shore of Virginia. Faced with coastal erosion and sea level rise, important work needs to be done in this area and with various state initiatives, the effort has resulted in real interest and thus the chapter was formed. Click here for the flyer with a membership form.

---
2015 Field School - Eastern Shore
A Field School will be held on the Eastern shore from May 9-20, 2015 with testing to be done on several sites. This is a certification program event. Click here for the flyer with a field school application.

---
Eastern Shore Public Archaeology Day
In conjunction with the new ASV Eastern Shore Chapter Organizational Meeting, a Public Archaeology Day will be held on Saturday, May 16, 2015 at the Palace Theatre in Cape Charles. Click here for the Agenda.

---
2015 March Newsletter Ready For Download
The March 2015 Newsletter is on the Publications page for downloading Newsletter. The membership page Membership Form has the 2015 membership applications in Word and PDF for infilling and dues paying. Note that if you choose PayPal, ASV still needs a form so that we know where to send the other stuff.
---
2014 ASV Annual Meeting
The 2014 ASV Annual Meeting was held from October 10-12 in Richmond, VA. at the Doubletree by Hilton Hotel, hosted by the COL Howard MacCord Chapter of ASV.
The banquet speaker Dr. Al Luckenbach gave a superb talk on the enigmatic Pig Point Site in Maryland.
The following were recipients of ASV Annual Awards:
Kay Veith, Avocational of the Year
Michael Madden, Professional of the Year
Darrin Lowery, Out of State Professional of the Year
No Out Of State Avocational of the Year

At the Business Meeting, the following were elected to ASV Office:

ASV President: Carole Nash (Term: 2015-2016)
ASV Vice President: Forrest Morgan (Term: 2015-2016)
ASV Secretary: Stephanie Jacobe (Term: 2015-2016)
ASV Treasurer: Carl Fischer (Term: 2015-2016)

For ASV Executive Board members:

Mike Barber (Term: 2015 to 2017)
Thane Harpole (Term: 2015 to 2017)
John Kelsey (Term: one year 2015)

---
The VA Association of Museums (VAMS) had a contest for designating the 10 most threatened artifacts in VA. ASV entered our canal boats. The oldest batteau in the United States was voted one of the 10 most threatened artifacts in the state. This is the start of an awareness campaign and a fund-raising campaign to get the funding to preserve the boats and to write up the report on the three seasons of ASV volunteer work between 1983 to 1985. Stay tuned for a "click here to donate" button to assist. We need funds for the preservation of the wood and leather and to pay for the report writing.

---
DHR 5-Year Plan Update
The VA Department of Historic Resources has a 5-Year Plan that is now being updated. Public response via their survey is requested. This is an opportunity to provide input to our State Agency that will guide their response to cultural resources for the next five years, i.e., it is more than slightly important. Please click on the URL with this announcement and take the survey. DHR is updating our Comprehensive Plan and we need public input. We invite you, as part of this public process, to complete a survey that takes approximately 15 minutes. The survey can be accessed from the following link. 5-Year Plan
---
Field School Opportunity
Mount Vernon seeks volunteers for Fridays and Saturdays from June to October. An opportunity to dig at George's house, how neat is that? Contacts are listed on the flyer.

Click here to get the .
---
New Quarterly Bulletin Editor
ASV welcomes Thane Harpole of the Fairfield Foundation to the post of Quarterly Bulletin Editor. Articles for consideration for publication should be sent to:
Thane Harpole
Fairfield Foundation
P.O. Box 157
White Marsh, VA 23183
(804) 815-4467

---
2014: Looking Ahead
Recently AMC Network filmed a segment of their upcoming TV series "TURN", at Kittiewan Plantation. The grounds and structures of Kittiewan were converted into sets to depict actions during the Revolutionary War time period. The series premieres Spring, 2014 on the AMC Network. Be sure to watch and see the 18th century come alive at Kittiewan. Come visit us. We are open the second Saturday of each month, March through December, from 10:00 am to 4:00 pm. We are at 12104 Weyanoke Rd., Charles City County, Va. Just off Rt. 5 Approximately 4 miles east of the courthouse.
---
2014: Looking Ahead
2014 promises to be a very interesting year in VA Archaeology. There will be a new administration in the State Capitol and a new SHPO. Kathleen Kilpatrick has resigned effective 12/31/2013 and Governor McAuliffe will be appointing a new SHPO. DHR has undergone reorganizational changes, but the main news for those of on the trowel end of archaeology is that at long last the new archaeology database (V-CRIS) is up and running. It is light-years ahead of the much and justly maligned DSS. The ease of use is phenomenally better. For years as head of the Survey Committee, all I could do was exhort people to go forth and survey, but the stumbling block was getting data from surveyors into the system. True, some managed it, but it was not well liked by an even larger number.

Now is the time to re-think the entire ASV approach to survey. I will be proposing at the January ASV Board Meeting a program of Directed Survey. This program will have to be approved by the Board, of course. In large measure due to changes in agricultural practices with no-till farming, the once vast areas of open, plowed and disked fields are possibly available maybe once a year, if that. The low-hanging fruit is gone.

In combination with some personal research interests I have been working on sporadically for the last 30 years, it occurred to me (better late than never) that ASV was in the ideal position to carry forward with a similar type of program. For instance, I have a map of the state with the counties and watercourses. I have been coloring an entire county where a pottery type occurs, purely as presence/absence. When one looks at the state map, there are gaps. For example, Keyser pottery has a large gap from the southernmost county in which it appears and the next set of counties to the north. Is that real or is that more than likely an artifact of survey? What a Directed Research Segment of the ASV Survey Committee could do is to find Keyser pottery in the gap counties. Iron furnaces are another area where tremendous gains could be made quickly. Tom Brady collected samples from the 100 or so charcoal blast furnaces and due to a misapprehension of the value they have by the entity that received them in his will, about 75% were thrown out. The locations are all known and can be visited with samples to fill two quart ziploc bags taken as a chapter project. Civil War earthworks are another area that needs attention. With computerization of Henrico County Civil War maps and transposing their locations onto USGS Quads, I was able to establish that about 10% survived, which was the figure that most Civil War folks had guessed. This can be done for everywhere that has them in the state. Obviously as they are threatened sites from development and looting, the locations are sensitive, but working with DHR, these issues can be managed.

And these are only my pet survey projects. Anyone can work one of these things up and get a Chapter involved with it. For those who do not wish to collect tick and chigger samples, sweat copiously or otherwise experience the great out of doors, there are as many if not more indoor projects that can be done from the comfort of your own computer via the internet. For instance, the Mutual Assurance Society records have been computerized, but only with aggregate values for the buildings. One Chapter volunteer went in and for each mill site, got the individual values of all of the buildings that were insured. As there are over 650 different building types listed, one can see the value and the information potential of this one source. Industrial Census Tabulations starting in 1850 are another virtually untapped resource that desperately need to be tabulated. I happen to be a farm equipment fanatic (from which the word fan is derived;). There is an enormous amount of published information that can be neatly tabulated so that archaeologists can use it. Let's face it, when 50 years ago is 1963, what is before that is now a wide open field back to 1865 where most VA intellectual work seems to have stopped apart from a few of us iconoclasts and just plain ornery folks who think there's value in information from after the Civil War.

So put on your thinking caps and let's see what we can all get going for 2014.

Lyle Browning
---
DHR DSS REPLACEMENT WITH V-CRIS
Updates and Info on the Transition

The DHR computerized system has been replaced with a far more advanced and much easier to use and far better interface called V-CRIS. This one will work on all platforms and systems which is worth the cost of admission itself.

The development and testing has been fast paced and the improvements are many and worthwhile. Not all suggested improvements were incorporated, but the important thing is that THIS TIME, the architecture of the program is such that changes can be made without major re-writes (costing mega-bucks).

Searches are much easier to perform and can be made across categories. The major change, in my view is that a satellite view of the area where one wishes to record the site will be visible and that a polygon tool will allow the recorder to place the shape far better than using the USGS Quad Sheets which had been the standard.

The system is now operational but with minor tweaks to be performed. The contract called for no net loss of capability and it is easy to see that the new system is vastly superior to the old one. The other bit of good news is that ASV and certain other categories of users will not be charged to enter data and that certification graduates have other inducements.

For info on training dates and other vital information, please start at V-CRIS Information and work through the successive pages.

---
ASV on Facebook
The ASV is on Facebook for both ASV and Kittiewan Plantation.

The ASV Board voted to start a Facebook presence to bring immediate news to the ASV membership which has been done. The Facebook page will bring information in as near as possible real-time to the membership. The Facebook page will be for informational purposes rather than as a general discussion page with more in-depth and longer shelf-life information to remain on the ASV website.

---
ASV Survey Insurance Application Template
Standardized form for insurance for ASV projects using non-ASV members.

ASV members will undertake survey efforts on parcels of land. For ASV approval and more importantly ASV insurance coverage for potential liability coverage for non-ASV members, a template has been created and approved by the ASV Board. With the addition of an explanation sheet, the template was approved at the July 13-14, 2013 ASV Board Meeting.

This checklist is designed to put any and all applications for ASV coverage on the same footing by providing a single uniform standard that will provide basic information for every project ASV undertakes. It will also be the basis for a research design for the project.

The form is an Excel spreadsheet that can be filled out in less than 20 minutes. It has basic information as to the "who-what-where-when-why" types of questions in a two-column layout.

Accompanying it is an explanation of terms in a Word document. This form will be the basis for future ASV approved projects statewide. As always, if there are questions, please contact us for clarification. Both are to be found on the field school page on this website.


---
DHR Threatened Sites Proposals
DHR is interested in receiving Threatened Sites proposals for the 2013-2014 fiscal year (July 1, 2013-June 30, 2014). We anticipate a budget of $50,000 available for this year. We are looking for significant sites threatened with damage or loss for which no funding is available or no permits are in place requiring mitigation. Because of the limited amount of funding available requests often come in projecting a cost of less than $5,000.

Often the money serves as seed money encouraging other entities to pitch in additional funding. Rarer sites such as Paleoindian and historic 17th century sites, and those filling in gaps in our data base such as Archaic sites may receive more attention than other sites about which we may have extensive data. Proposals are evaluated by a committee comprised of representatives from COVA, ASV, and DHR.

A proposal form may be obtained by going to the DHR website. We do not expect lengthy proposals but do expect you to stress the significance of the site and the threat it faces and what course of action you recommend. Note at the bottom of the form that the person or entity that submits a proposal may not necessarily be the ones awarded the funding. The state encourages the involvement of SWAM vendors and all who receive funding must be EVA registered. We encourage submissions as needs dictate but are now looking for proposals to be received in the regional offices by May 1, 2013.

If you have questions please contact regional office archaeologists or the State Archaeologist, Mike Barber.


---
ASV Website
If you have corrections, suggestions, problems, or comments about this site, or if you have any photos of ASV activities, excavations, etc., that could be used on the site, please contact Lyle Browning. Photos will be scanned and returned to you as soon as possible